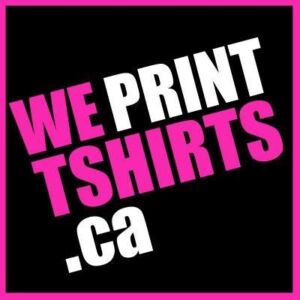 Ace Enterprises (We Print T-Shirts)
Location
294 The Queensway South
Keswick, Ontario
L4P 2B5
We Print T-shirts Inc. is an apparel decorator and personalized gift business based in Georgina, Ontario.
We specialize in printing novelty t-shirts and promotional clothing for businesses and not-for-profit, bands, clothing lines, events, organizations and parties.  We also offer custom design services, and can offer as little as 1 shirt to 100's of shirts!  Our goal is to provide you with the best printing services and outstanding customer support.
Looking to outfit your employees, bring awareness to your brand/organization or would just like to have your staff stand out?  We can help! We can also create custom, single-order prints perfect for gifts and special occasions.
Along with our screen printing and embroidery – other services include custom printing direct to garment, sublimation, and professional heat transfer vinyl, full-colour mug prints, and laser engraving on wood.
Customer Service Rep/Screen Printer.
Connecting with this employer
Job Skills helps job seekers by connecting them with employers that are the right fit.
If you would like more information or to apply for an available postion, fill out this form and one of the Job Skills team will contact you.