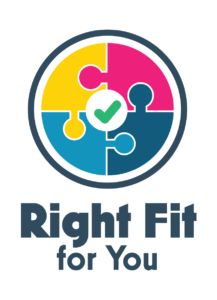 The Right Fit for You program is a program targeted to support GTA, including York Region and Peel Region youth with disabilities and/or complex barriers in overcoming barriers to employment and is available at no cost to eligible youth.
The Right Fit for You program offers the following:
Social Worker/Facilitator on the RFFY team will provide clients with assistance and tools they can use to benefit them in becoming and staying healthy and improving their ability to stay healthy and meet their life and employment goals
Small group for RFFY clients moving through their pathway to economic stability
Clients will be paid an allowance equal to minimum wage according to attendance
Sessions will be offered concurrently in class and via webcast through a remotely accessible live webinar format.
Access our e-learning platform to gain the knowledge to succeed in your job search.
Learn About
Self-Exploration/Career Planning
Employment Preparation
Program Contact
Local – 905-235-5255
Toll-free – 1-866-592-6278
Eligibility
Between 15 and 30 years of age (inclusive)
A Canadian citizen, permanent resident, or a protected person as defined by the Immigration and Refugee Protection Act
Legally entitled to work according to the relevant provincial/territorial legislation and regulations.
Self-identify as having a disability
Persons awaiting refugee status, as well as those who hold a temporary visitor visa, student visa or work visa, are not eligible to participate.
Funded by: the Government of Canada

Tatenda M.
Self-employment Pathways for Newcomers
Having just gotten to Canada about 2 weeks ago this was the most valuable experience I have had. I have run my own business in the past and appreciate that execution and time management is one of the most important things I can focus on. I got so much value from the slides and the conversation today because this was insight that would have taken me months to gather.
