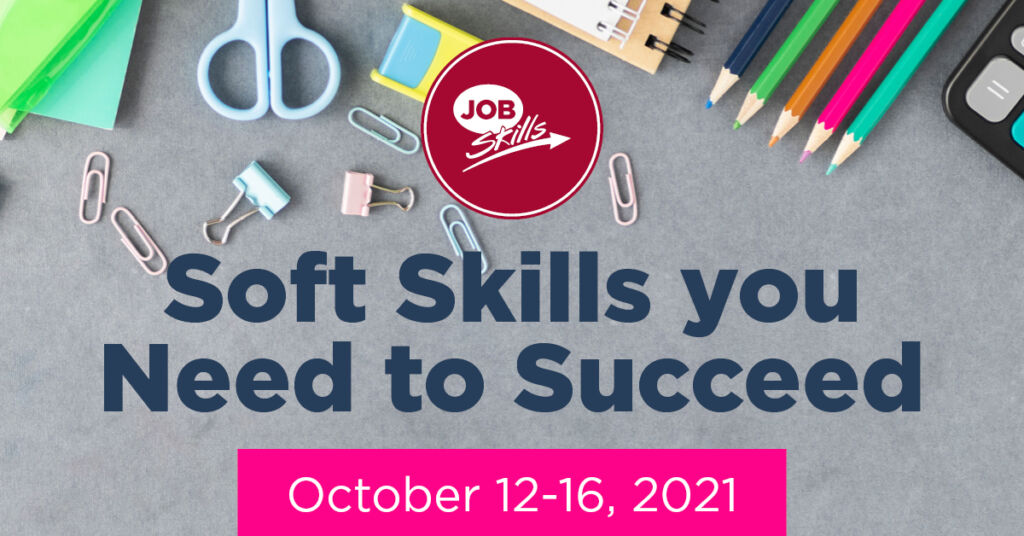 Soft Skills are in high demand in today's labour market. Join us for this 4-part series where you will gain a better understanding of key soft skills and how they can complement your existing skillset. Become the candidate that every employer wants.
Upon completion of all 4 workshops in the series, you will receive an e-certificate of participation.
Workshops
How to Organize your Life
October 12, 2021 – 2:00 pm – 3:30 pm
Organizational skills are considered valuable for any team member. Someone with strong organizational skills is generally considered to have the ability to manage their duties through wise planning, time optimization, detail orientation, and prioritization. This workshop teaches you how to see a project through smoothly from early planning to completion with some helpful organization tools and strategies.
Taking Responsibility
October 13, 2021 – 10:00 am – 11:30 am
Learn why taking responsibility for your behaviours and actions can help you be more successful in life. In this workshop, you will learn about responsibility and accountability. How taking control of your actions can lead to better opportunities and a greater sense of accomplishment. Learning to be responsible and accountable will pay off in your future career goals and in everyday life.
Diversity, Inclusion, and Cultural Competency
October 14, 2021 – 10:00 am – 11:30 am
We are privileged to work and live in a multicultural country. This workshop will introduce you to key concepts in Diversity, Inclusion, and cultural competency. We will focus on how we can show value, respect, and how we can learn from diverse cultures, races, ages, genders, sexual orientations, and religions. We will discuss what makes Diversity so important in the workplace now and in the future.
Time Management
October 15, 2021 – 10:00 am – 11:30 am
Time management is the process of organizing and planning how to divide your time between specific activities. Good time management enables you to work smarter – not harder – so that you get more done in less time, even when time is tight and pressures are high. Join us to learn about different time management tools and strategies.
FIll out the form to register.