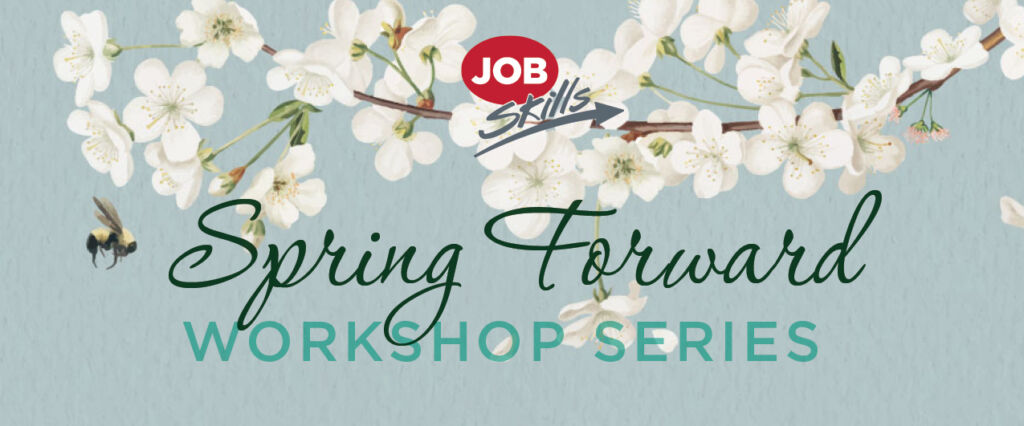 Are you currently job searching and not making headway? Does your resume need a spring cleaning? Join us for our Spring Forward Resume series and get a jump start on your job search goals.
We will help you create an effective resume by:
Giving you the tools to create strong accomplishment statements
Learning the best type of resume for your experience and skill-set
Optimizing your resume for applicant tracking software that many companies are using to screen applicants
Our 5-workshop series covers everything you need for job search success.
Workshops
Identify the Skills to Pay the Bills
March 1, 2022 – 10:00 am to 11:00 am

Does your resume showcase your achievements and accomplishments from previous jobs and volunteer experience? Can you talk about what skills and strengths you would bring to a new company? In this workshop, we will help you identify your existing skills through self-assessment, and you will learn how to write strong, concise accomplishment statements that will make you stand out with HR managers and future employers.
Targeted Resumes
March 3, 2022 – 2:00 pm to 3:00 pm
After taking this workshop you will understand how you can make an impact with your resume. You will learn how to analyze a job posting and then extract the relevant information to make a STAND out resume that sells your best skills and accomplishments.
You are a S.T.A.R.!
March 15, 2022 – 10:00 am to 11:00 am
Learn how to effectively write accomplishment statements that will impress an employer.
How to Beat the Applicant Tracking System (ATS)?
March 18, 2022 – 10:00 am to 11:00 am
Identify key strategies on how to make sure that your resume gets through the Applicant Tracking Software (ATS) and onto the desk of your future employer.
Resume renovation
March 28, 2022 – 10:00 am to 11:00 am
Are you in need of a resume overhaul and not sure where to begin? We are here to help. In this workshop, you will learn about the key parts of resumes, understand the different types of resumes and understand how to choose the best one for your job search needs. This is your first step to a Resume Renovation.
FIll out the form to register.