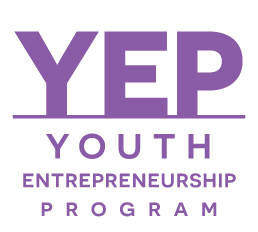 YEP Presents Seven weeks to entrepreneurship – a business overview
The Youth Entrepreneurship program gives promising young entrepreneurs access to resources and skills, providing the best chance for the success of their new businesses. You will have the opportunity to increase your entrepreneurship skills and learn about entrepreneurship during the seven-week program that serves youth in York and Peel Regions.
The program is currently delivered online with support from knowledgeable staff with extensive business experience and will start on August 8, 2023.
Program Status: Contact us today to pre-register for the information sessions on July 21, July 27, August 2, August 3, 2023.
LEARN ABOUT
Developing entrepreneur skills and knowledge
Life skills including goal setting, time management, and conflict resolution
Critical business skills; legal requirements, business operations, marketing and sales strategies.
PROGRAM CONTACTS
Toll-free – 1-866-470-5947
Text – 289-312-3244
Eligibility
Between 15 and 30 years of age (inclusive)
A Canadian Citizen or permanent resident
In need of assistance to overcome barriers to employment
Legally entitled to work according to the relevant provincial/territorial legislation and regulations
Participants are referred to the YEP by an employment consultant at an Employment Ontario Employment Services (EOES) Centre.  Completion of registration forms is required for consideration in the program.
York and Peel Residents
Funded by: Funded by the Government of Canada

FGF Brands
Job Skills Employer Hiring Event
FGF Brands would like to thank Job Skills for a job well done putting together a virtual career fair. The event exceeded our expectations and we were able to fill an opening. We would recommend their services in the future and look forward to continuing our partnership.

Kaniesia C.
Youth Entrepreneurship Program
It was a great feeling coming to the workshops each day to learn principles that could be implemented into my own business to enhance productivity. The business plan really opened up my insight into a lot of factors within my industry and business such as competitors, suppliers, and my target market.

Josephine G.
SIMPACT
I am so grateful I had the opportunity to be part of a great program catered to women. I enjoyed the supportive environment which helped me to grow and learn and gain hands-on experience in a business setting. In addition, Simpact successfully prepared me and supported me in finding employment including being a great reference for me.

Sherry N.
Bridge to HR Online
Your online classes were not only full of knowledge but were also full of life. Your way of delivering the information was very enthusiastic, engaging, and motivating. When I shared with you that I have a good opportunity with Amazon, you walked with me… in order to improve my performance and this definitely contributed to my success in getting the job.

Saundra G.
Self-employment for Persons with Disabilities
This program is phenomenal! It has been such a welcoming place and the support from staff and other participants has been amazing. The whole work environment has been created as a safe place to be yourself and contribute your skillset at your comfort level… I had figuratively lost my voice, this program helped me find my voice.

Tatenda M.
Self-employment Pathways for Newcomers
Having just gotten to Canada about 2 weeks ago this was the most valuable experience I have had. I have run my own business in the past and appreciate that execution and time management is one of the most important things I can focus on. I got so much value from the slides and the conversation today because this was insight that would have taken me months to gather.
