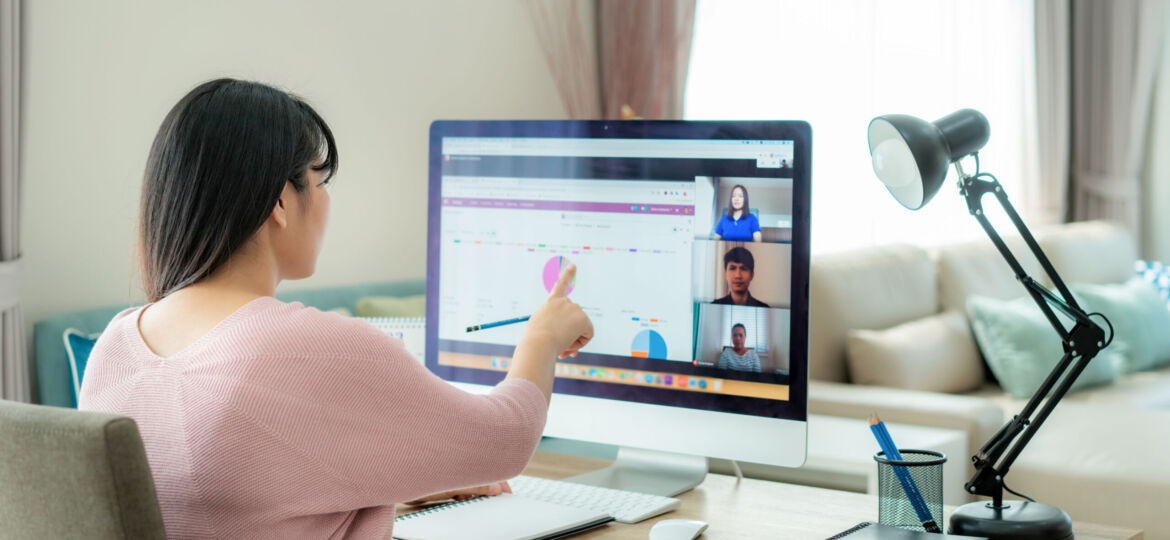 Hard work alone may not get you noticed and it isn't always easy to gain recognition in an organization. Depending on the leadership, levels of hierarchy, or organizational culture, meetings can feel competitive or fraught. For some women new on the job or naturally introverted, they might also be reluctant to interrupt, or inclined to reflect longer on their ideas that occur to be sure they are adding value to the conversation.
Insights may go unshared and potentially remain unrecognized by decision-makers. In contrast, those who feel empowered to weigh in – even when their contributions offer little – may be chosen for plum assignments or promotions.
Strategies to consider:
Sit where you can be seen (in person or virtually) – The power position in any meeting room is the one immediately opposite the person chairing the session. In virtual meetings ensure your camera is on and you remain engaged. Either strategy puts you in the sightlines of the person with the power to recognize would-be contributors.
Suggest a round-table protocol (invite everyone at the table to comment in turn) – Recommending adopting this approach is designed to draw out the greatest diversity of perspectives and increase a variety of ideas to consider leading to better decision making.
Don't let perfection be the enemy of good – Not every comment has to be brilliant or even completely original; sometimes agreeing with or building on an already discussed idea is useful, reinforcing its value or suggesting a variation.
Identify a potential question or comment in advance – If relevant, consider devoting time beforehand to reflecting on the identified focus and goals. What forms your particular perspective on the issue? If you had to address the situation yourself, what steps would you take? Thinking deeply about the context and potential consequences helps to identify valuable questions or comments not likely to emerge in the moment.
It's possible for meetings to get derailed even with a carefully thought-out agenda with concrete goals. A defined time for the meeting has been allotted; however, the interventions of a strong-willed individual may hijack the meeting and get it off track.  Consider trying one of these tips below:
Stand up and raise one hand (in person or virtually!) – Some of those in the room will look your way and stop talking. Comment that although the issue raised by the individual may be valid, you will 'park' the issue to be discussed later and return to the agenda so you can adjourn in a timely fashion.
Distribute your draft agenda – At the meeting or in advance, include both the goals to achieve, and the planned adjournment time. This creates a collective ownership, enlisting attendees to feel responsible for addressing the schedule, and making it easier to keep everyone to stay focused on the task at hand.
Recruit an ally or two – Identify someone that can reliably echo, add credit to or probe your ideas when you express them as this benefits moving an agenda item or goal forward. This ally can acknowledge an "excellent suggestion", ask a question that permits elaboration, or find natural opportunities to reinforce the idea originator.
If you have taken these tips into consideration and want to move ahead with solid guidance and support, Job Skills may have the support you need to assist you on the path to success!
As a way to help, Job Skills has a menu of resources, programs and information topics that focus on the current and changing world of work.  Links and resources are updated with the most up-to-date information.  Join one of Job Skills' online workshops this month on 'Interview Strategies' or 'Video Interviews' to practice some of these new skills!
If you haven't connected with an Employment Consultant at Job Skills, NOW is the time to get that one-on-one support you can use as you move through the new way of working.  Call Job Skills toll free at 1-866-592-6278 to connect to one of JS's experts.