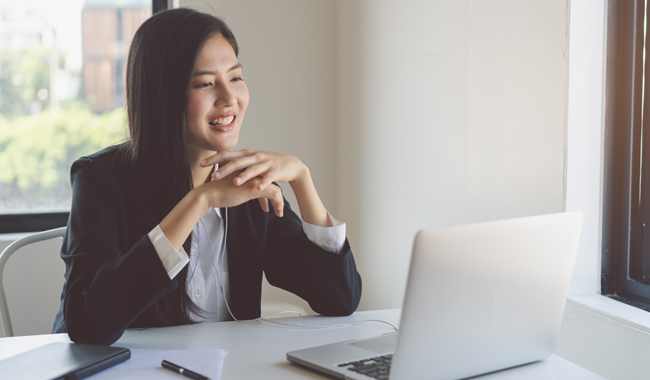 In this time of COVID-19 more than 50% of employers, recruiters and hiring managers are changing their in-person meetings to either phone or video due to health and safety restrictions. Employers are increasingly using video interviewing techniques as it is more efficient and effective than traditional style interviewing.
If you are contacted for a video interview, these are the most commonly used video styles:
Pre-recorded (generally only used for pre-screening candidates and a list of basic questions is usually supplied)
Recorded responses sent by the interviewer (answers are sent to the interviewing company)
Live Video conference (Skype, Zoom, GoToMeeting, Google Hangouts, etc.) now being used by 60% of employers.
Get ready for your interview

Test your internet connection! Download the virtual meeting tools that will be used in advance and take advantage of any tutorials on their use. Internet connections can be unreliable these days so, before your video interview, make sure your interviewer has your cellphone number in case you need to conduct the interview over the phone.
Prepare your interview space. Choose a quiet, well-lit space with a neutral background that is free of distractions (including pets and family members!). Turn off your phone and computer notifications, use a headset, a good quality microphone and get familiar with how to use the mute feature.
Dress the part. To give the best impression, dress as you would if you were attending the interview in person. No loud colours or noisy jewelry that can be distracting. And, make sure your bottom half matches your upper half, in case you need to get out of your seat for any reason! (Skip the pajamas!)
Treat the interview as if it were an in-person interview. Video interviews can be more awkward than those that are in-person. Take some time before your interview to do your research on the company and the role you are interviewing for. Practice sample questions and responses and be prepared with written for the interviewer if it's a live video conference. Speak slowly and clearly and stay focused on the interviewer's questions.
Be on time! For a video interview make sure you log in 10 minutes early so you can identify any technical issues and resolve them
Before your 'appointment time'. Gather any notes you've made and use this final checklist. Make sure you have: A copy of your resume to reference in the interview; a notepad, pen and any notes/questions you may have prepared; a glass of water; phone on silent… and, finally, smile!
After the interview. Be genuine and patient. Send a 'thank you' email after the interview and understand if a hiring manager or recruiter takes longer than usual to get back to you – this is a new process for them too!
As a way to help Job Skills has online workshops that will assist you in your current job search situation. Watch for the dates and times to register for our online workshops as well as lots of great links and resources to assist you!
If you haven't connected with an Employment Consultant at Job Skills NOW is the time to get that one-on-one support you need as you move through the new way of working. Call Job Skills toll free at 1-866-592-6278 to connect to one of Job Skill's experts.