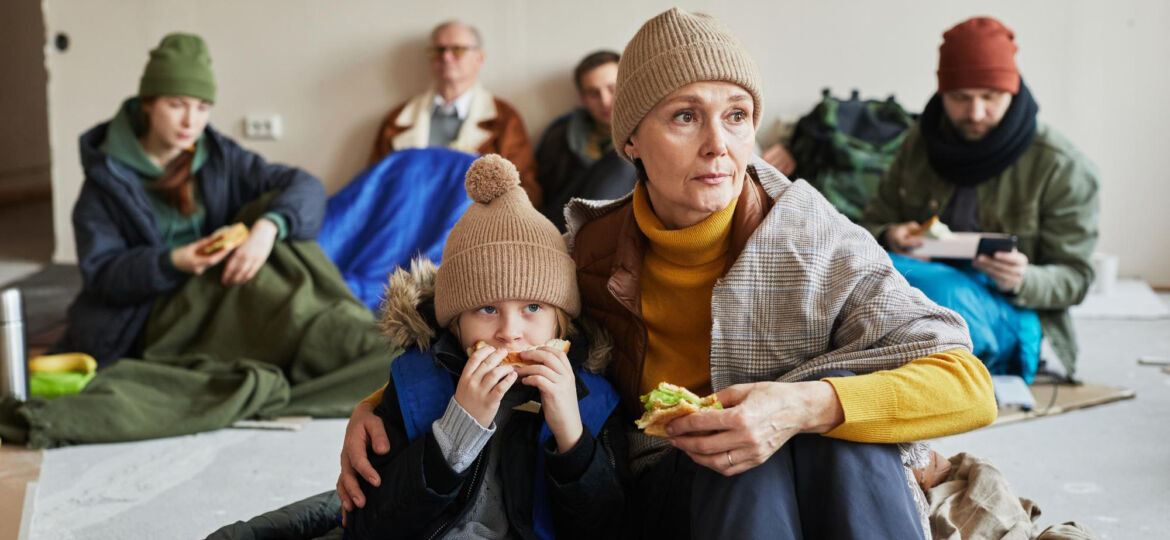 REFUGEES AND NEWCOMERS TO CANADA DON'T HAVE IT AS EASY AS SOME PEOPLE THINK
Imagine standing in front of the house you called your home for most of your life knowing you may never return. Women like Aisha who fled Syria to give her children a better life. Men like Matviy who fled after Russia invaded Ukraine and destroyed life as he once knew it. Leaving behind loved ones, family heirlooms, and memories.
Thousands of refugees arrive in Canada every year to start a new life. However, images of a smiling Prime Minister and volunteers don't paint the reality of the obstacles Newcomers to Canada face every day.
How does somebody start a new life in a new country when they don't speak the language? Yet, most Newcomers navigate complicated systems with little grasp of the English language. Many refugees suffer with mental health after witnessing violence, persecution, and trauma. They were forced to leave their homes to find affordable housing in a brand new country. All the while, trying to adapt to a new culture.
Yes, Canada offers new opportunities to Newcomers and refugees, but taking advantage of those opportunities isn't easy. Iranian doctors are driving for Uber, Syrian scientists are unemployed, Afghani engineers are cleaning buildings. In a time when Canada is desperately trying to open up the talent pipeline, Newcomers skills, credentials, and education are often not recognized.
So, what services exist that offer Newcomers to Canada real solutions?
Job Skills' Simpact Practice Firm aims to assist Newcomer and refugee clients with integrating into the Canadian workforce. This means that the program is designed to navigate common challenges that newcomers face when entering the workplace. From practicing language proficiency to understanding Canadian workplace norms, Job Skills' Simpact Practice Firm provides attendees with in-depth training and resources to succeed.
Job Skills' Simpact Practice Firm builds networks within their clients, creating a supportive community. In this program, Newcomers have a shared experience and interact with others. This means that you will have like minded people to learn, discover, and grow with. This community often becomes the foundation for a Newcomer's social circle in Canada. This communal aspect is especially important for a Newcomer, considering that they may have left behind many friends and family members.
The hands-on skill training that the Practice Firm provides is invaluable. The eight-week program covers essential job preparation in sectors like administration, data entry, accounting/bookkeeping, sales, purchasing, information systems, computer graphics, human resources, communications, and marketing. Moreover, the program's guests' speakers range from the Canadian Mental Health Association to the section-specific experts, providing visitors with a wealth of information that will be helpful in their career development.
Job Skills' Simpact Practice Firm also offers one-on-one career coaching to participants. This ensures that attendees develop a personalized return-to-work action plan, setting them up for successful employment searches in the future. Additionally, the Facilitator/Coach and Employer Relations Specialist offer practical guidance to fast-track the job search, providing clients with ideal resources and pointing them towards the right employers or job postings.

ABOUT JOB SKILLS
For 35 plus years, Job Skills has been delivering solutions to job seekers and moving people into sustainable, meaningful employment. Throughout their long history, Job Skills has recognized that not every job seeker is the same. There is no one size fits all employment program. That's why the Job Skills vision is building an inclusive society where all people are ensured equitable opportunities to fulfill their career aspirations and participate fully in the community.
Job Skills' employment specialists are there to answer any of your employment questions. Job Skills' staff offer solutions to all job seekers, including youth, newcomers, mature workers, persons with disabilities, and entrepreneurs. Job Skills' knowledgeable team can help you make educated decisions, set goals, and create a strategy to help you become happier in your career. Job Skills works with local employers creating employment opportunities for Job Skills' clients.
Thanks to government funding, Job Skills' programs and services are free to all users. Job Skills have locations across Keswick, Stouffville, Markham, Brampton, and Mississauga. Job Skills also offers virtual services for community members unable to attend one of our offices for in-person activities.
Find your employment solution today. Visit www.jobskills.org