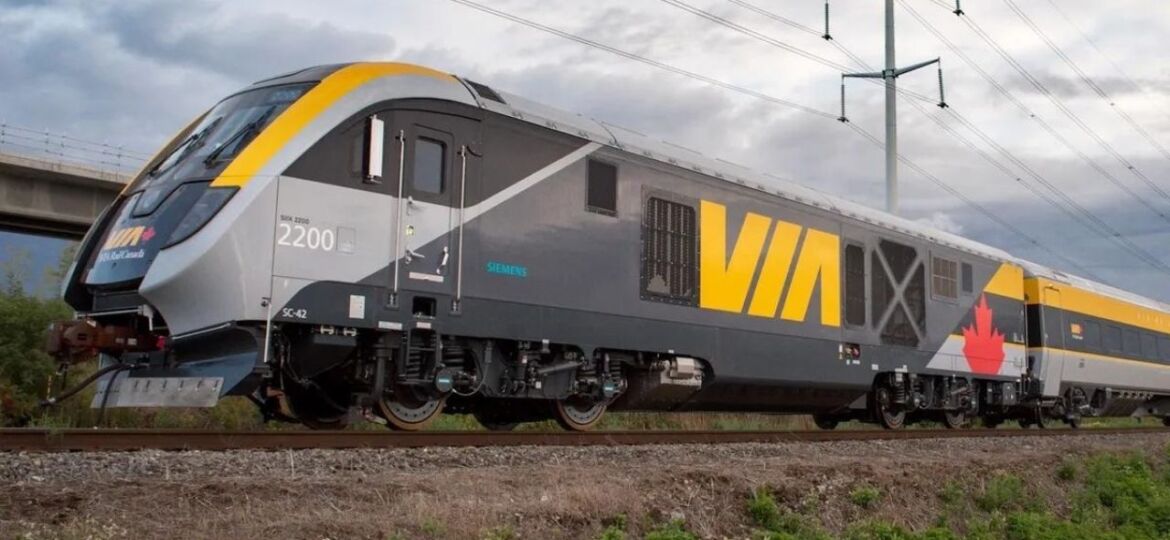 The aroma of fresh coffee hits me as soon as I walk through the doors. The Via Rail' Business Lounge at Union Station is a scene of peaceful serenity compared to the nightmare I went through trying to navigate a train station I've been to a hundred times before. The Via Rail' staff in the Business Lounge is as friendly as the staff member who noticed my thousand yard stare and guided me to where I needed to go while I was still out in the station.
My job as a digital marketer and working with influencers has taken me to a lot of different places, and my preferred mode of transportation was car service or flying. My trip to Ottawa, Ontario in early October has me on the Via Rail bandwagon, and for Canadian trips, I guess I'm now a train guy.
I was supposed to drive to Ottawa, but I was hit by a car in a parking lot the week before I was supposed to leave, and though I was lucky to walk away with just a couple of muscle tears in my back, driving the four hours from Newmarket to Ottawa was out of the question. Not going wasn't an option either. I was traveling to Ottawa to join First Work for 'Hill Day'. We were meeting with government officials to discuss a National Youth Employment Strategy. As the Central Region Rep for the First Work' Board of Directors, I had to figure out how to be there.
I popped a couple ibuprofen, washed them down with a Venti Americano from Starbucks, and started looking for alternative transportation to Ottawa. After gathering information and prices on flights, I remembered that a colleague of mine had traveled to Ottawa earlier in the year and he'd taken the train. Still fully committed to flying, I checked out Via Rail, just so I could give my boss some price options. After checking out the Business Class option on Via Rail for less than half the price it would take to fly, I did some quick math, and the time I would have spent on the train was about an hour longer than I would have spent at the airport and on the plane. Plus I was enticed by the included meals and drinks. So, despite all my instincts telling me to fly, it was time to kick it old school, bring it back to the industrial revolution, and jump on the train. (Yes, I am fully aware that only I can make taking the train for four hours into a dramatic story.)
After my little adventure at Union Station, and acting like a tourist who had never been to Toronto before, I settled into my seat with more legroom than my kids give me on the couch at home, and off we went.
A few minutes into the trip we were offered a drink and a snack, all complimentary. It was 11:30 in the morning so I chose to go with a coffee. However, I watched as other passengers were served Johnnie Walker Scotch Whiskey on the rocks, red and white wine, and tall boys of Heineken. I thought about opting for an ice cold free beer, because no beer tastes better than a free beer. But, I stuck with my coffee. A couple hours later we were served our meal. Because I'm allergic to all the most popular ingredients on the planet, I chose to go with penne in vodka tomato sauce. Though I was tempted to order a beer this time around, I decided on a Coke. I was given a full can, not the four ounces I'm accustomed to getting when I'm on a plane, but a full can of Coke that they let me open by myself! I had also taken two free cans of pop from the Business Lounge before we boarded the train, so I was fully equipped with sugary goodness for my trip.
The meal was good, I'm not going to lie to you and say that Via Rail deserves three Michelin Stars, but the pasta and sauce were good, and I really liked the apple cake. Special thanks to the Via Rail staff who hooked me up with the extra rolls, big guys need their carbs, and you didn't let me down.
With my ADHD in full swing, I had worked on four different projects, played five different games on my Nintendo Switch, watched half of two television shows, and about a quarter of two movies. My busy brain was screaming to get off the train, but the seats and service made me comfortable enough that I was able to control all the fiery ticks lighting up my brain. I can say hands down, a four hour Via Rail trip to Ottawa, beats a four hour flight to Vancouver everyday of the week. (However, I love Vancouver and I would walk for two months if that's what it took to get back).
Two more cups of coffee later, and we arrived in Ottawa. I easily navigated the Via Rail station as if I'd been there before, a far cry from how I acted at my home station in Toronto. I went outside, the staff guided me to the taxi line, flagged a car for me, and off I went to start my short trip in our Nation's Capital.
I'll tell you all about my experience in Ottawa in a different post, today it's all about my experience with Via Rail. My return trip was pretty much rinse, wash, and repeat. So, just imagine everything you just read, but the train going the other way.
I enjoyed Via Rail, the next time I have to do a longer trip in Canada I'll definitely be channeling my inner Sheldon Cooper and opting for the train.
We're always looking for new adventures. If you would like us to visit your city, town, or business, contact marketing@jobskills.org

ABOUT JOB SKILLS
For 35 plus years, Job Skills has been delivering solutions to job seekers and moving people into sustainable, meaningful employment. Throughout their long history, Job Skills has recognized that not every job seeker is the same. There is no one size fits all employment program. That's why the Job Skills vision is building an inclusive society where all people are ensured equitable opportunities to fulfill their career aspirations and participate fully in the community.
Job Skills' employment specialists are there to answer any of your employment questions. Job Skills' staff offer solutions to all job seekers, including youth, newcomers, mature workers, persons with disabilities, and entrepreneurs. Job Skills' knowledgeable team can help you make educated decisions, set goals, and create a strategy to help you become happier in your career. Job Skills works with local employers creating employment opportunities for Job Skills' clients.
Thanks to government funding, Job Skills' programs and services are free to all users. Job Skills have locations across Keswick, Stouffville, Markham, Brampton, and Mississauga. Job Skills also offers virtual services for community members unable to attend one of our offices for in-person activities.
Find your employment solution today. Visit www.jobskills.org