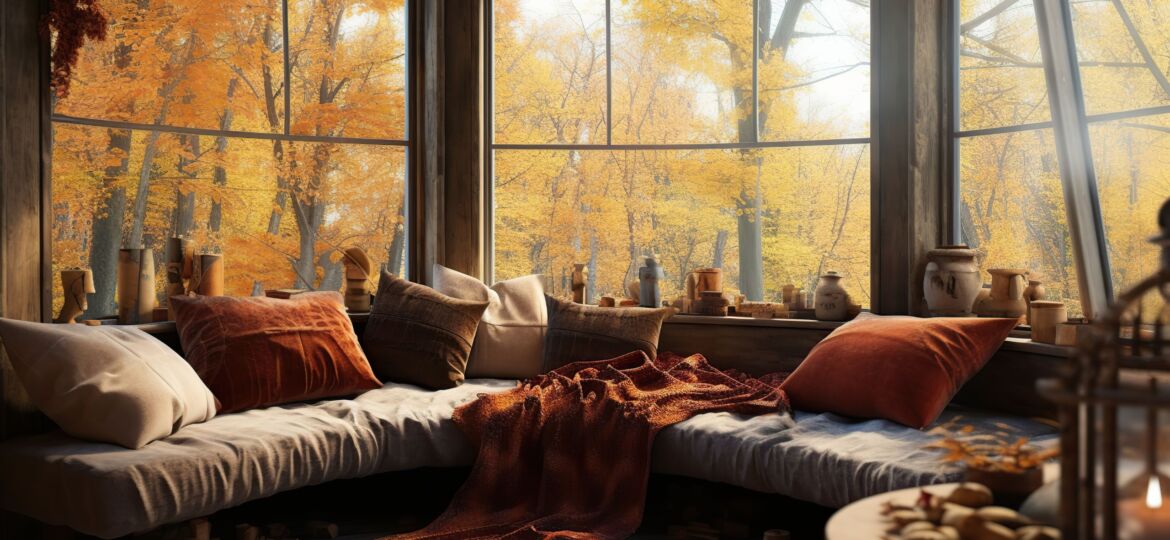 With the end of summer right around the corner, the leaves will start to change and the temperature drops, many of us will begin to look for ways to create a cozy sanctuary in our homes. One simple way to do this is by infusing warm, fall-inspired colours throughout your space. But beyond just being aesthetically pleasing, colours can actually play a significant role in our emotional and mental well-being. Let's take a closer look at how certain hues can boost our mood, promote relaxation, and turn our homes into cozy retreats.
Colours and Emotions: Have you ever walked into a room and immediately felt calm, relaxed, or energized? That's because certain colours can have a profound impact on our emotions. For example, blues and greens often create a calming environment, promoting peace and relaxation, while yellows and oranges can stimulate energy and optimism. When decorating for fall, consider incorporating warm colours like reds, oranges, yellows, and browns to reflect the changing colours of the foliage and create a cozy, comfortable feeling indoors.
Infusing Warmth: Adding warm colours to your home doesn't have to mean completely redecorating. Simply infusing warmth subtly can make a big impact. Consider incorporating accents like throw pillows, blankets, or fall-themed decorations in those warm hues. Lighting is also key; aim to use soft and warm lighting to enhance the cozy atmosphere.
Colour and Psychology: Did you know that colour psychology is a real thing? Our brains respond differently to different colors, which is why being mindful of colour psychology can help you tailor the ambiance of your home to boost your mood and create a sanctuary that truly feels like home. Remember that your personal preference matters—choose colours and decor that make you feel happy and comfortable.
Fall-Inspired Decor Ideas: Looking for ways to incorporate warm colours into your home this fall? Try adding autumn-inspired decor, like pumpkins, gourds, and dried leaves. You can also swap out your everyday candles for fall-inspired scents like cinnamon and apple. If you're feeling crafty, try making your own fall-themed wreath or garland using warm-coloured fall foliage.
Colours have the power to influence our moods, emotions, and even our physical health. When it comes to creating a cozy fall retreat in your home, incorporating warm, fall-inspired colours can help counteract the shorter, colder days and promote a sense of warmth and connection to nature. By being mindful of colour psychology and infusing warmth subtly throughout your space, you can create a sanctuary that truly reflects your personal style and boosts your mood all season long.
ABOUT JOB SKILLS
For 35 plus years, Job Skills has been delivering solutions to job seekers and moving people into sustainable, meaningful employment. Throughout their long history, Job Skills has recognized that not every job seeker is the same. There is no one size fits all employment program. That's why the Job Skills vision is building an inclusive society where all people are ensured equitable opportunities to fulfill their career aspirations and participate fully in the community.
Job Skills' employment specialists are there to answer any of your employment questions. Job Skills' staff offer solutions to all job seekers, including youth, newcomers, mature workers, persons with disabilities, and entrepreneurs. Job Skills' knowledgeable team can help you make educated decisions, set goals, and create a strategy to help you become happier in your career. Job Skills works with local employers creating employment opportunities for Job Skills' clients.
Thanks to government funding, Job Skills' programs and services are free to all users. Job Skills have locations across Keswick, Stouffville, Markham, Brampton, and Mississauga. Job Skills also offers virtual services for community members unable to attend one of our offices for in-person activities.
Find your employment solution today. Visit www.jobskills.org