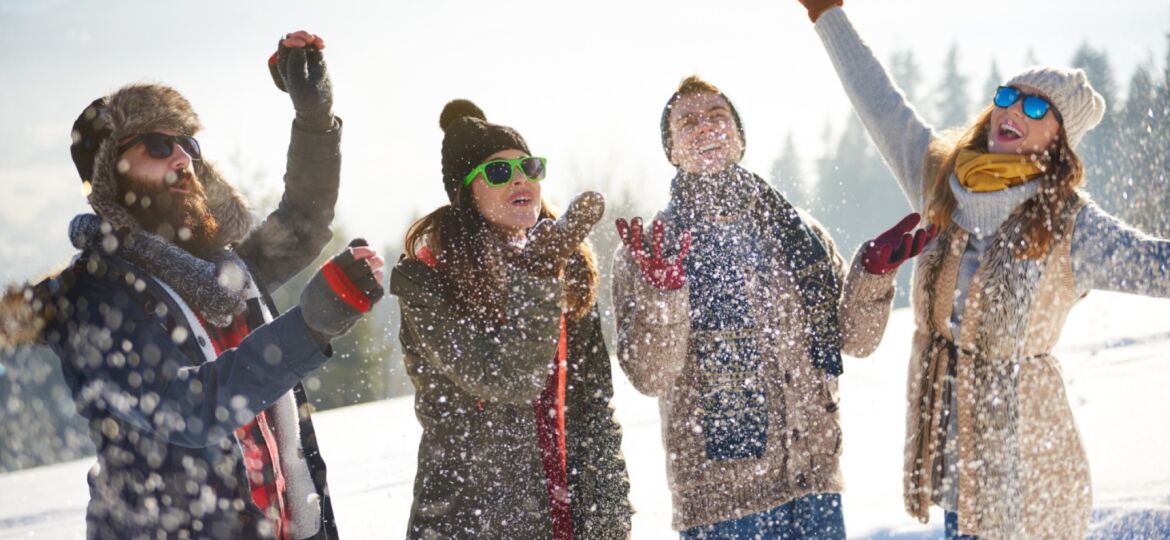 Winter can be an especially hard time for parents to keep their kids active, especially if taking part in outdoor activities is not an option. With the days getting shorter, temperatures dropping, and too often the "winter blues" settling in, it can be very difficult to keep your kids on track with their physical activity. It's more important than ever to make sure kids are staying fit and active during what can be a long and chilly season: here are a few ideas on how to do it!
Encourage your kids to get outdoors! Even when the weather is chilly or damp, there are still plenty of winer activities to do outside. You can go on a winter nature walk, spend time in a park, build a snowman, or try sledding. If it's too cold outside, plan an at-home obstacle course or even organize a snowball fight.
Indoor activities are another great way to keep kids active in the winter. Turn up the music and host a family dance-off, or set up a bowling game using rolled up socks, paper plates, and water bottles. Create an indoor game of tag or plan a treasure hunt around the house. And for the younger ones, blowing bubbles or having a song-and-dance party are all great ways to have fun and get active.
Perhaps most importantly, don't forget about the power of play! Have your kids help with everyday activities like shoveling snow, raking leaves, or creating snow sculptures. Provide them with creative toys and sensory-based play opportunities like kinetic sand, building blocks, and play dough. Or create a den using blankets that lets them hide and feel cozy while they use their imaginations and play fun games.
It's important to stay active in the winter, and having fun doing it is a great way to get everyone involved. So don't let the cold temperatures stop you – there are plenty of activities to keep your kids moving and having a blast all season long.
————————————————————————
Job Skills' employment specialists are there to answer any of your employment questions. Job Skills' staff offer solutions to all job seekers, including youth, newcomers, mature workers, persons with disabilities, and entrepreneurs. Job Skills knowledgeable team can help you make educated decisions, set goals, and create a strategy to help you become happier in your career. Job Skills works with local employers creating employment opportunities for Job Skills' clients.
Thanks to government funding, Job Skills' programs and services are free to all users. Job Skills have locations across Keswick, Markham, Brampton, and Mississauga. Job Skills also offers virtual services for community members unable to attend one of our offices for in-person activities.
Find your employment solution today. Visit www.jobskills.org