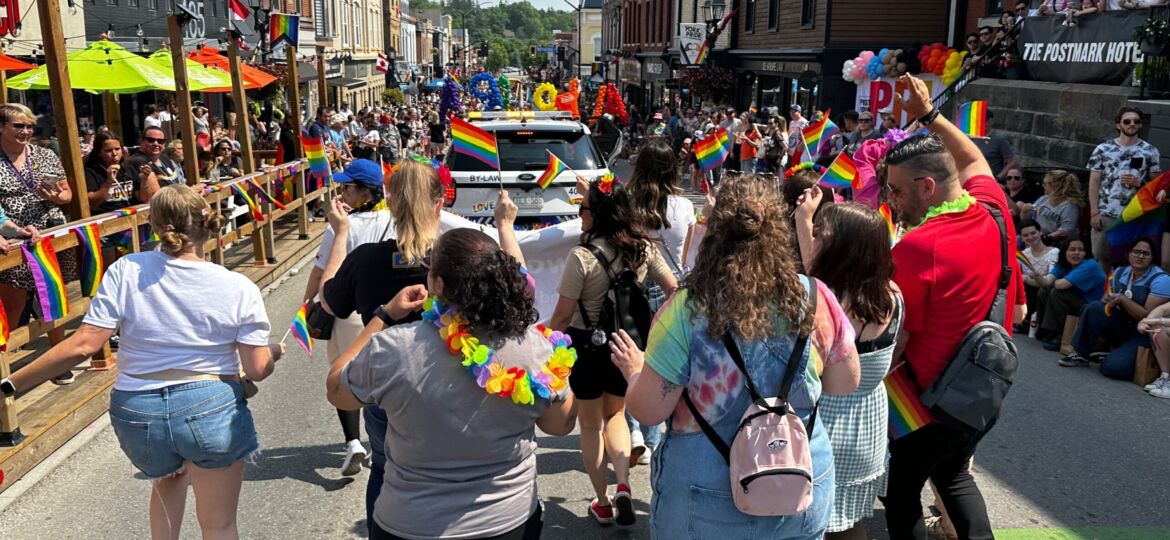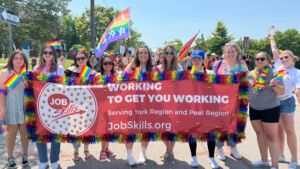 Pride month may be coming to an end in 11 days, but Job Skills hasn't stopped its efforts to celebrate and support the LGBTQ2S+ community. Over the weekend, Job Skills' staff attended the York Region Pride Parade, organized by York Pride. The parade, filled with festivities and celebrations, allowed the staff to come together, interact with the community and promote equality for everyone regardless of their sexual orientation or gender identity.
Job Skills' staff were thrilled to attend the York Region Pride Parade. It was heartwarming to see the LGBTQ2S+ community coming together with their supporters, friends, and family to celebrate their identity. As the staff danced and sang along the route, it was apparent that the crowd was in high spirits. People were handing out rainbow flags, dancing to the music, and even offering high-fives to the participants. It was a joyous occasion that brought together people of all backgrounds and ages, reflecting the true spirit of Pride.
At Job Skills, the internal celebration of Pride has been going on throughout June, including discussions around the importance of inclusivity, diversity, and acceptance. Participating in the York Region Pride Parade was a perfect way for the staff to put into practice what they had discussed. It was an opportunity to come together, have some fun and learn more about the LGBTQ2S+ community.
The parade also provided an excellent chance for Job Skills staff to interact with residents of York Region, many of whom had come out to celebrate the event. It was an opportunity to showcase the organization's commitment to support the LGBTQ2S+ community and a chance to make a connection with people who may need the services that Job Skills provides. The staff embraced the opportunity to engage with the community, promoting unity and acceptance.
Attending the York Region Pride parade was more than just a fun day out for Job Skills staff. It was a step toward furthering the organization's commitment to supporting and celebrating the diversity and inclusivity of the LGBTQ2S+ community. The parade was a reminder of the importance of coming together, having fun, and standing up for equality and respect for all people, regardless of their sexual identity or orientation. Job Skills staff proudly marched alongside the community, spreading joy and love, and they can't wait to do it again next year.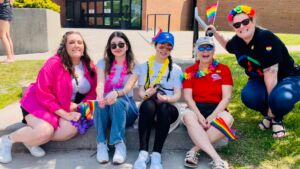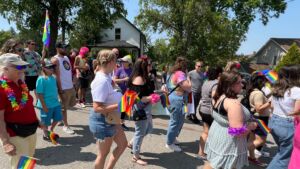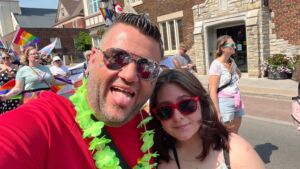 ABOUT JOB SKILLS
For 35 plus years, Job Skills has been delivering solutions to job seekers and moving people into sustainable, meaningful employment. Throughout their long history, Job Skills has recognized that not every job seeker is the same. There is no one size fits all employment program. That's why the Job Skills vision is building an inclusive society where all people are ensured equitable opportunities to fulfill their career aspirations and participate fully in the community.
Job Skills' employment specialists are there to answer any of your employment questions. Job Skills' staff offer solutions to all job seekers, including youth, newcomers, mature workers, persons with disabilities, and entrepreneurs. Job Skills' knowledgeable team can help you make educated decisions, set goals, and create a strategy to help you become happier in your career. Job Skills works with local employers creating employment opportunities for Job Skills' clients.
Thanks to government funding, Job Skills' programs and services are free to all users. Job Skills have locations across Keswick, Stouffville, Markham, Brampton, and Mississauga. Job Skills also offers virtual services for community members unable to attend one of our offices for in-person activities.
Find your employment solution today. Visit www.jobskills.org