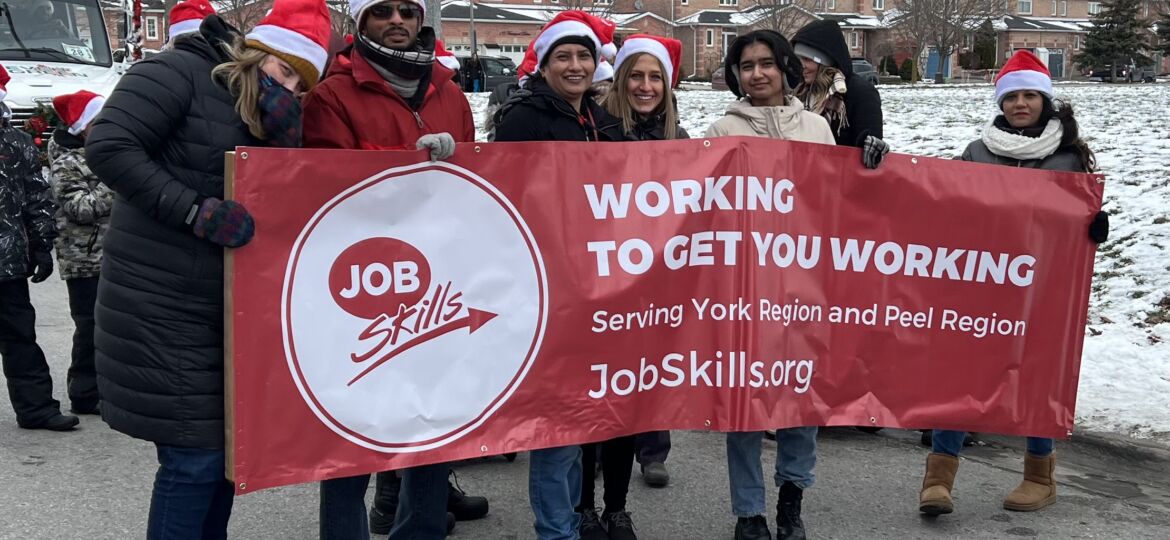 Santa Claus touched down in Keswick, Ontario, on November 19, 2022, and Job Skills was there to celebrate his arrival and kick off the holiday season. 
Job Skills staff travelled from all over York, Durham, and Peel Regions to the Town of Georgina to participate in the Keswick Santa Claus Parade. There was a chill in the air, and the wind had a nasty bite, but it wasn't enough to dampen the spirits of the parade-goers. 
Santa Claus came to town! Job Skills staff had a blast participating in the Keswick Santa Claus Parade on Saturday, November 19, 2022. If you missed us, we will be in Stouffville on December 3!

To learn more about Job Skills, visit https://t.co/vblV8a4Mhh pic.twitter.com/taAt6zn6q4

— Job Skills (@JobSkillsOrg) November 20, 2022
Handing out candy canes and holding the Job Skills banner proudly, 25 Job Skills staff and family members greeted parade watchers, and wishes of happy holidays were heard loud and clear. Outside of the parade's festivities, there were a couple of heartwarming moments. A young adult surprised Job Skills' director of communications, Ray Rauth, with a hug. The hugger was the first youth to sign up for the Job Skills' Youth Job Connection program in 2015. Job Skills is happy to report that the former client is meaningfully employed. 
The good feelings didn't stop there. The manager of employment services and programs out of Job Skills Keswick Employment Office was greeted by a former Job Skills client with an emphatic "Thanks for getting me a job!" 
The 2.8km walk started at Fairwood Public School and ended at the Georgina Ice Palace. With weak legs and wind burnt cheeks, everybody in the Job Skills group had a smile on their face. 
The good news is the fun doesn't stop in Keswick. Job Skills will participate in the Stouffville Santa Claus Parade on December 3. 
Watch the highlights from Job Skills experience at the Keswick Santa Claus Parade.