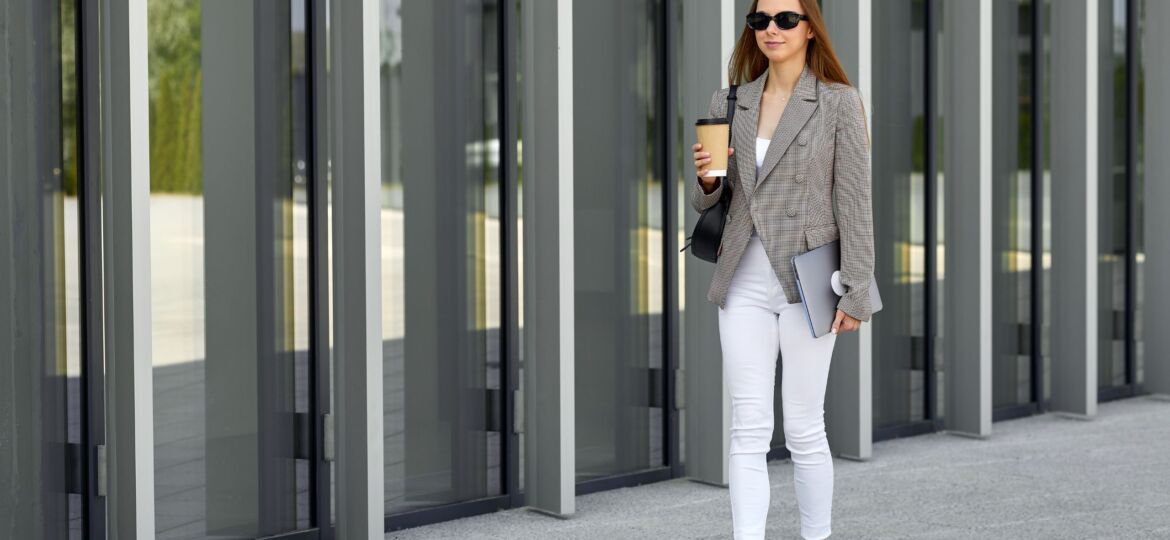 Casual Fridays can be quite the conundrum for most women. While you want to look relaxed and comfortable, it's essential to remember that it's still a day at work. After all, you never know who you might bump into at the office. You may encounter the CEO, a new client, or a supervisor you've never met before. So, your outfit needs to strike the perfect balance between comfort and professionalism. Here's a guide to help you put together the perfect women's casual Friday outfit.
Start with the Top
A chic blouse or fine-knit sweater is the perfect place to start. Depending on the weather, you can either choose a long or short-sleeved top. Opt for solid colours or subtle patterns to keep things professional. Avoid over-the-top patterns and bright colours to avoid looking too informal. A blouse can elevate your look with ease, and an elegant sweater will keep you cozy at your desk.
Focus on the Bottom
The bottom half of your outfit requires a little more thought. Opt for tailored jeans in a dark wash or wide-leg trousers for a polished, yet relaxed feel. Trousers will help you project a more formal and professional look. The dark wash jeans are a great alternative to traditional work pants and are very comfy. Avoid ripped jeans or short skirts as they are inappropriate.
Choose the Right Shoes
Footwear on casual Fridays is essential, and it's best to avoid open-toed shoes. Comfortable flats, loafers, or low-heeled boots are the way to go. Make sure that your shoes are clean and in good condition as broken or dirty shoes will ruin your otherwise perfect look.
Accessories are the Key
Minimalist jewelry like stud earrings or a simple pendant necklace can elevate your look without being too flashy. Avoid chunky necklaces or bracelets and instead opt for subtle and elegant pieces. You need a structured tote bag for a professional touch. A small handbag or a cross-body bag just won't cut it. Keep your bag in tip-top condition and remember to keep it organized.
Don't Forget the Outerwear
Casual Fridays might have some leeway, but when the office is chilly, you'll need to have a blazer or cardigan to add a layer of sophistication and professionalism. The right blazer can take your outfit to the next level and keep you warm throughout the day. Make sure to focus on a clean, tailored blazer to keep things professional.
On casual Fridays, your outfit should still convey professionalism. Remember to consider your office environment and dress code when choosing your outfit. Avoid revealing outfits, overly casual clothing, and instead focus on comfort and sophistication. With these tips, you are sure to nail the perfect balance between professional and casual.

ABOUT JOB SKILLS
For 35 plus years, Job Skills has been delivering solutions to job seekers and moving people into sustainable, meaningful employment. Throughout their long history, Job Skills has recognized that not every job seeker is the same. There is no one size fits all employment program. That's why the Job Skills vision is building an inclusive society where all people are ensured equitable opportunities to fulfill their career aspirations and participate fully in the community.
Job Skills' employment specialists are there to answer any of your employment questions. Job Skills' staff offer solutions to all job seekers, including youth, newcomers, mature workers, persons with disabilities, and entrepreneurs. Job Skills' knowledgeable team can help you make educated decisions, set goals, and create a strategy to help you become happier in your career. Job Skills works with local employers creating employment opportunities for Job Skills' clients.
Thanks to government funding, Job Skills' programs and services are free to all users. Job Skills have locations across Keswick, Stouffville, Markham, Brampton, and Mississauga. Job Skills also offers virtual services for community members unable to attend one of our offices for in-person activities.
Find your employment solution today. Visit www.jobskills.org