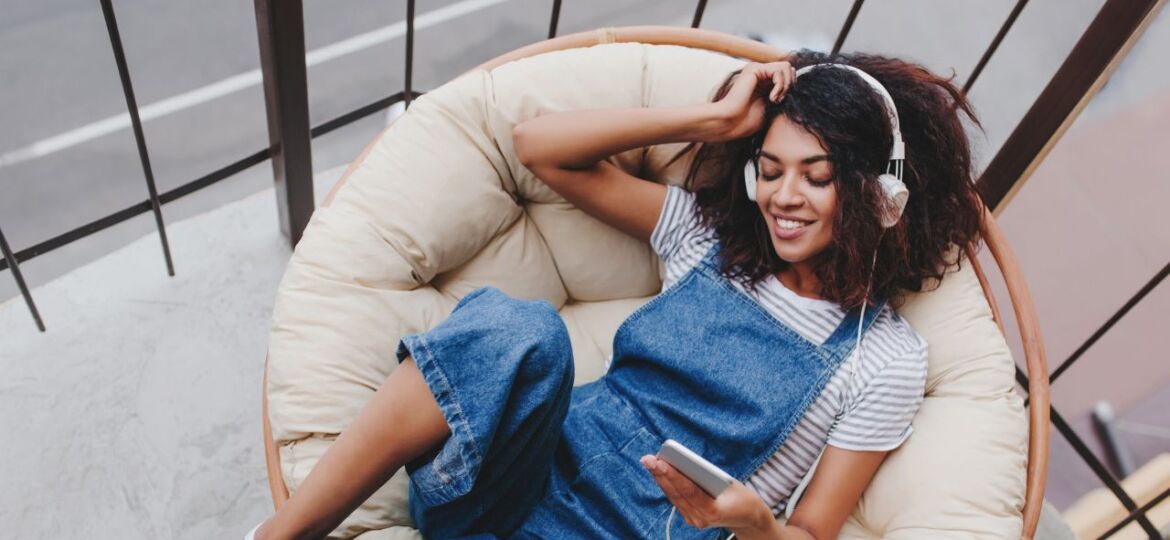 From reducing stress levels to improving sleep quality, discover the power of music and its impact on your overall well-being
Have you ever felt the music? It's a term that can mean different things depending on the context and the person. Generally, it refers to having a strong emotional or physical reaction to the music – like feeling joy, sadness, chills, or even vertigo. Some people feel the music more intensely than others, while some may not feel it at all. Many factors can influence how we experience music, such as the type of music, our expectations, and the memories associated with it.
But did you know that music can actually improve your mental health? It has the power to affect your mood, stress levels, sleep quality, and cognitive abilities. It's a powerful tool for your overall well-being.
Here are some tips on how to use music for your mental well-being:
Listen to relaxing music:
Find music that helps you unwind and relax. Aim for music that plays at around 60 beats per minute, as this tempo encourages a relaxed and conscious mind. Meditation tracks, Celtic, Indigenous, and Indian string or flute music can have a calming effect.
Express yourself with a beat:
You don't need to be a musician to make music. Grab a rhythm instrument like a drum or rain stick and create beats that reflect your emotions. Release tension and emotions in a creative way by mimicking the sounds of a storm.
Sing along to your favorite songs:
Singing has numerous benefits – it boosts your mood, confidence, breathing, and posture. It can even release endorphins, the feel-good chemicals in your brain. Sing in the shower, in the car, or join a choir for some social benefits.
Listen to happy music:
Research shows that listening to happier music can make you feel happier. Lift your mood by creating a playlist of upbeat songs that make you smile. Explore different genres and artists that inspire you.
Listen to music that resonates with you:
Music can help you connect with your emotions, memories, and like-minded individuals. It can also assist in coping with difficult situations or feelings. Listen to music that reflects your current mood or helps you shift to a more positive state of mind.
On top of these tips, there's a specialized therapeutic approach called music therapy. It's an evidence-based therapy that utilizes music to improve mental health. It involves listening to music, singing, playing instruments, or composing music. Music therapy has been shown to benefit those with conditions like depression, anxiety, autism, Alzheimer's disease, and chronic pain. It can also enhance communication, self-expression, coping skills, and mood. Music therapy is provided by trained professionals who have completed an approved program.
It's important to note that music therapy and listening to music for pleasure are different. While both can be enjoyable, music therapy is more comprehensive and intentional. It involves the guidance of a therapist and specific goals for treatment. Listening to music for pleasure, on the other hand, is a personal and casual way to enjoy music. It can entertain, relax, energize, or inspire you, but it shouldn't be mistaken as a substitute for music therapy when it comes to addressing mental health issues.
So, whether you're feeling the music on your own or seeking the guidance of a music therapist, music can be a powerful tool for improving your mental well-being. Give it a try and let the music work its magic in your life.

ABOUT JOB SKILLS
For 35 plus years, Job Skills has been delivering solutions to job seekers and moving people into sustainable, meaningful employment. Throughout their long history, Job Skills has recognized that not every job seeker is the same. There is no one size fits all employment program. That's why the Job Skills vision is building an inclusive society where all people are ensured equitable opportunities to fulfill their career aspirations and participate fully in the community.
Job Skills' employment specialists are there to answer any of your employment questions. Job Skills' staff offer solutions to all job seekers, including youth, newcomers, mature workers, persons with disabilities, and entrepreneurs. Job Skills' knowledgeable team can help you make educated decisions, set goals, and create a strategy to help you become happier in your career. Job Skills works with local employers creating employment opportunities for Job Skills' clients.
Thanks to government funding, Job Skills' programs and services are free to all users. Job Skills have locations across Keswick, Stouffville, Markham, Brampton, and Mississauga. Job Skills also offers virtual services for community members unable to attend one of our offices for in-person activities.
Find your employment solution today. Visit www.jobskills.org