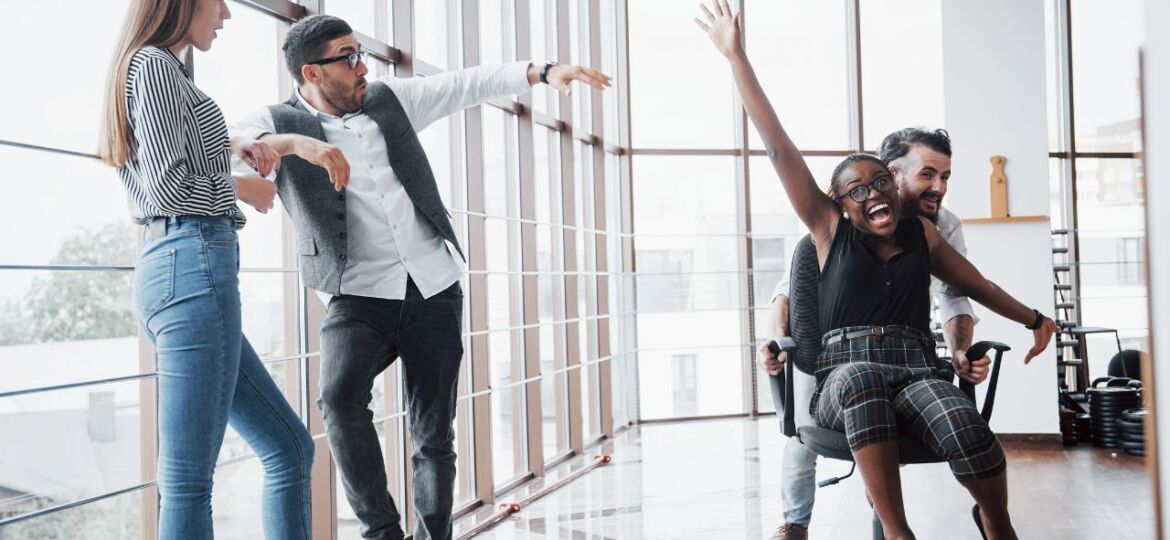 Does your office feel dull, drab, and uninspiring? Do you dread going to work every morning? Maybe it's time to add some fun to your workplace. Most of us are so focused on productivity and goals that we often forget the importance of enjoyment and positive experiences at work. But a fun work culture can do wonders for employee motivation, collaboration, and mental health. In this blog post, we'll explore the benefits of having fun at work and how it can be a key factor in organizational success.
Having fun at work isn't just a luxury anymore; it's a necessity to create a happy and productive workplace environment. When employees enjoy their job, they are motivated to perform better and put in extra effort. Fun activities like office parties, team-building games, and casual Fridays help reduce work stress and create a relaxed work environment. This, in turn, helps employees stay happy, healthy, and motivated to do their best work.
A positive and fun workplace is also conducive to creativity and innovation. When employees feel good, they are more open to thinking outside the box and coming up with innovative ideas. Fun and relaxed settings encourage risk-taking and experimentation. They foster a work culture that encourages new ideas and solutions, leading to new and exciting projects and initiatives.
Teamwork and collaboration are the backbone of any successful organization. A fun and vibrant work culture fosters positive relationships, trust, and rapport between team members. Team-building activities, social events, and fun activities help build interpersonal relationships that go beyond the usual work interactions. When colleagues get along and trust each other, they are more likely to collaborate effectively and achieve their common goals.
To thrive in a competitive business environment, companies need to focus on talent retention and recruitment. A fun workplace culture can help with both. When employees enjoy their job and feel satisfied, they are more likely to stay loyal to their company, reducing turnover rates. Conversely, a toxic workplace can drive away even the most talented and dedicated employees. A fun work culture is not only attractive to potential employees, but can also boost your company's reputation as a great place to work.
Fun at work may sound like a trivial or frivolous matter, but it is actually a key factor in promoting organizational success. When employees enjoy their job and feel good, they are more productive, creative, collaborative, and committed. Fun activities can reduce stress, foster creativity and innovation, improve teamwork, reduce turnover, and boost your company's reputation. So, it's time to inject some fun into your workplace and enjoy the benefits of a happy and productive workforce!
ABOUT JOB SKILLS
For 35 plus years, Job Skills has been delivering solutions to job seekers and moving people into sustainable, meaningful employment. Throughout their long history, Job Skills has recognized that not every job seeker is the same. There is no one size fits all employment program. That's why the Job Skills vision is building an inclusive society where all people are ensured equitable opportunities to fulfill their career aspirations and participate fully in the community.
Job Skills' employment specialists are there to answer any of your employment questions. Job Skills' staff offer solutions to all job seekers, including youth, newcomers, mature workers, persons with disabilities, and entrepreneurs. Job Skills' knowledgeable team can help you make educated decisions, set goals, and create a strategy to help you become happier in your career. Job Skills works with local employers creating employment opportunities for Job Skills' clients.
Thanks to government funding, Job Skills' programs and services are free to all users. Job Skills have locations across Keswick, Stouffville, Markham, Brampton, and Mississauga. Job Skills also offers virtual services for community members unable to attend one of our offices for in-person activities.
Find your employment solution today. Visit www.jobskills.org