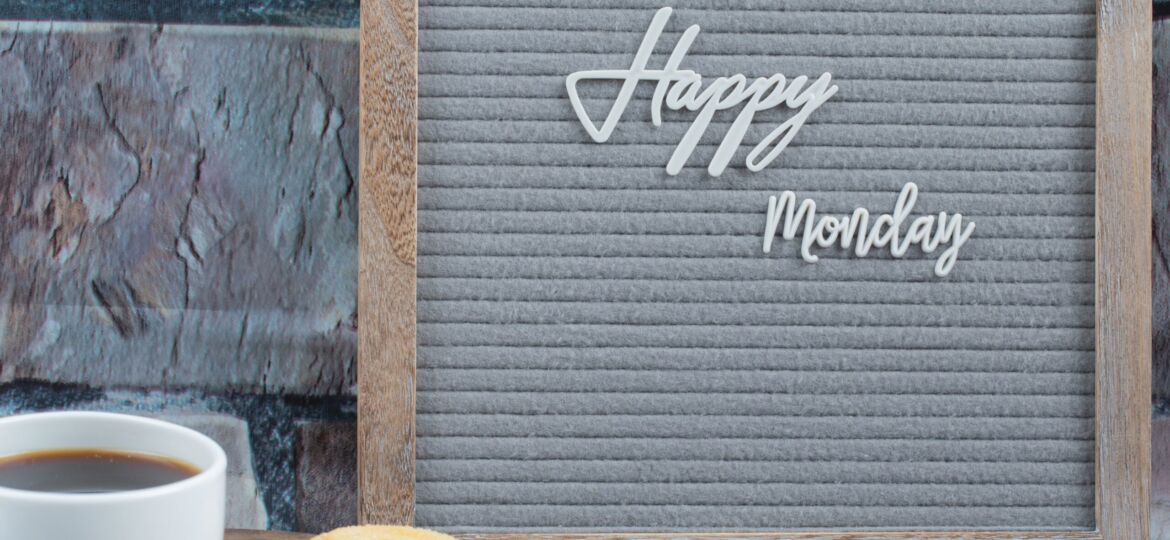 Feeling unmotivated on Mondays? Check out these creative tips for making it your favorite day of the week.

"Ugh, Monday again?" – The most common phrase you might hear from your colleagues at work. It seems like we have all agreed that Mondays are the worst. But, what if we change our mindset and start thinking of Monday as the best day of the week – full of possibilities and new opportunities? 
Set weekly goals – Start the week by setting achievable goals for the next 5 days. Identify what is most important and prioritize your tasks to stay organized and focused. This will give you a sense of direction and help you feel accomplished at the end of the week.
Engage in friendly competitions – Do you have a competitive spirit? Challenge your colleagues to a friendly competition to motivate yourself and get your week started on the right track. It can be anything from who finishes their work first, to who can drink the most cups of coffee in one day.
Organize your desk – A cluttered desk can make you feel overwhelmed and affect your productivity. Start your week with a clean and organized workspace, so you can focus on your work. Put away unnecessary papers and supplies and only keep what you need at your fingertips.
Plan your calendar – Take some time on Monday mornings to plan your calendar for the rest of the week. This will help you prioritize your tasks and ensure that you are on track to meet your goals. Plus, who doesn't love checking things off a to-do list?
Do some exercise – Physical activity is an excellent way to start your day. It can help reduce stress and boost your energy levels. Whether it's a quick yoga session or a run around the block, starting your week with exercise can do wonders for your mood and productivity.
Practice breathwork for mindfulness – Breathing exercises can help you calm your mind and reduce stress levels. Take a few minutes for deep breathing exercises in the morning, and you'll start your day feeling more centered and focused.
Pack your favorite food – Treat yourself to your favorite food for lunch on Mondays. It can help you look forward to the day and give you the energy boost you need to power through your work.
Stay hydrated – It's essential to stay hydrated throughout the day to keep your body and mind functioning correctly. Make sure to drink plenty of water on Monday, and throughout the week to ensure you're staying hydrated.
Start your day with gratitude – Take a moment to reflect on everything you're grateful for before starting your workday. It can help put things into perspective and shift your mindset towards positivity.
Infuse positive affirmations – Remind yourself of your strengths and positive qualities by holding on to some self-affirming statements. By focusing on your strengths, you are better equipped to overcome any obstacle and face the week with confidence.
The start of the week doesn't have to be something to dread. With the right mindset and a few simple tips, you can make Monday your favorite day of the week. Setting goals, organizing your workspace, staying hydrated, and starting your day with gratitude are just a few of the things you can do to set yourself up for a productive and positive week. So next Monday, try some of these tips and see how much better you feel. Trust us – it's worth it!
ABOUT JOB SKILLS
For 35 plus years, Job Skills has been delivering solutions to job seekers and moving people into sustainable, meaningful employment. Throughout their long history, Job Skills has recognized that not every job seeker is the same. There is no one size fits all employment program. That's why the Job Skills vision is building an inclusive society where all people are ensured equitable opportunities to fulfill their career aspirations and participate fully in the community.
Job Skills' employment specialists are there to answer any of your employment questions. Job Skills' staff offer solutions to all job seekers, including youth, newcomers, mature workers, persons with disabilities, and entrepreneurs. Job Skills' knowledgeable team can help you make educated decisions, set goals, and create a strategy to help you become happier in your career. Job Skills works with local employers creating employment opportunities for Job Skills' clients.
Thanks to government funding, Job Skills' programs and services are free to all users. Job Skills have locations across Keswick, Stouffville, Markham, Brampton, and Mississauga. Job Skills also offers virtual services for community members unable to attend one of our offices for in-person activities.
Find your employment solution today. Visit www.jobskills.org