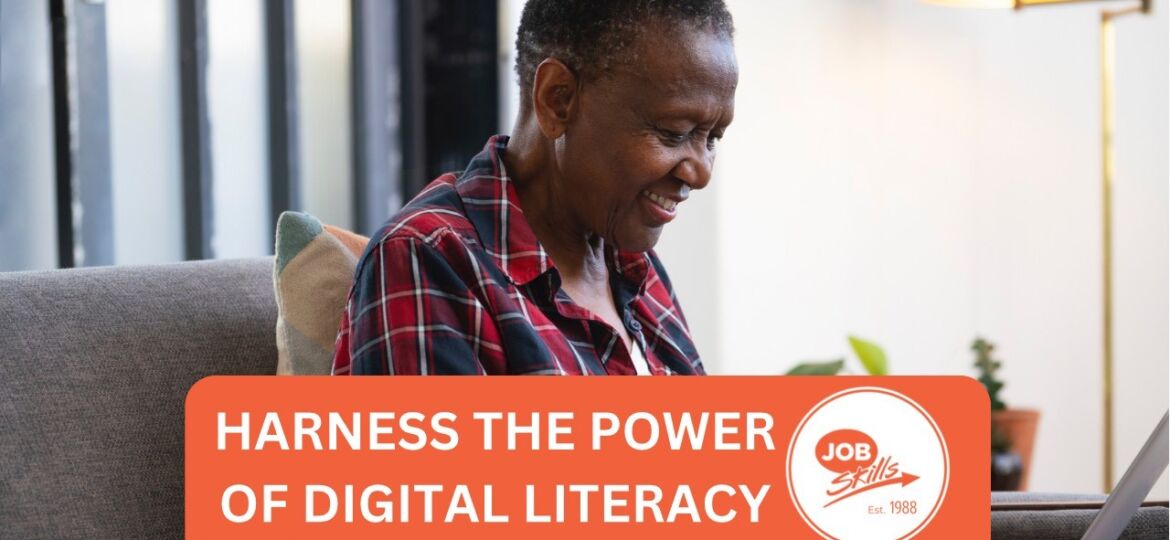 Level Up Your Digital Skills with Job Skills' Point, Click, Connect Program
In our increasingly digital world, digital literacy has become an essential skill. It is no longer a luxury but a necessity for anyone who wants to access information, stay connected with others, and improve their employability. With the internet at our fingertips, we can communicate more efficiently, access information instantaneously, and find new job opportunities. However, to fully take advantage of these digital resources, we must be digitally literate.
Enhanced Communication and Social Media:
Digital literacy enables efficient communication, especially on platforms such as email and social media. Being able to use these platforms allows you to communicate with potential employers, keep in touch with friends and family, and network with people from around the world. Social media can also act as a platform for personal branding, opening doors to job opportunities that were not possible before.
Access to Online Information:
With Google and other search engines available, people can access information on any topic they want in seconds. However, without knowing how to navigate the internet safely, many people could fall victim to cybercrime such as phishing. Digital literacy involves understanding online safety practices, knowing how to spot fraudulent websites, and being cautious when submitting personal information online.
More Efficient Use of Resources:
Digital literacy has paved the way for more efficient use of resources such as job search tools and e-learning platforms. With easy access to online job postings from anywhere in the world, people can apply for jobs in far-flung locations that would be otherwise impossible to do. Furthermore, with e-learning, individuals can upgrade their skills without physically going to a school.
Job Skills' Point, Click, Connect Literacy Program:
Taking advantage of different digital resources and improving digital literacy is not always easy for everyone. In York Region, Job Skills' Point, Click, Connect Program aims to help underrepresented groups acquire basic computer skills for safe internet practices by providing one-on-one support from knowledgeable instructors at multiple locations in northern and southern York region. The program is open to everyone, especially those with limited access to computers and the internet.
Digital literacy has become a must-have skill in today's world, and accessing it will help you in your career and everyday life. The benefits of being digitally literate include being able to communicate more efficiently, accessing online information, making more efficient use of resources, and staying safe online. With the growing importance of digital literacy, initiatives such as Job Skills' Point, Click, Connect Program provide support and resources for individuals who need help to become digitally literate. So, let's embrace digital literacy and experience the benefits it brings.
To learn more about Job Skills' Point, Click, Connect program, visit https://www.jobskills.org/point-click-connect/
ABOUT JOB SKILLS
For 35 plus years, Job Skills has been delivering solutions to job seekers and moving people into sustainable, meaningful employment. Throughout their long history, Job Skills has recognized that not every job seeker is the same. There is no one size fits all employment program. That's why the Job Skills vision is building an inclusive society where all people are ensured equitable opportunities to fulfill their career aspirations and participate fully in the community.
Job Skills' employment specialists are there to answer any of your employment questions. Job Skills' staff offer solutions to all job seekers, including youth, newcomers, mature workers, persons with disabilities, and entrepreneurs. Job Skills' knowledgeable team can help you make educated decisions, set goals, and create a strategy to help you become happier in your career. Job Skills works with local employers creating employment opportunities for Job Skills' clients.
Thanks to government funding, Job Skills' programs and services are free to all users. Job Skills have locations across Keswick, Stouffville, Markham, Brampton, and Mississauga. Job Skills also offers virtual services for community members unable to attend one of our offices for in-person activities.
Find your employment solution today. Visit www.jobskills.org