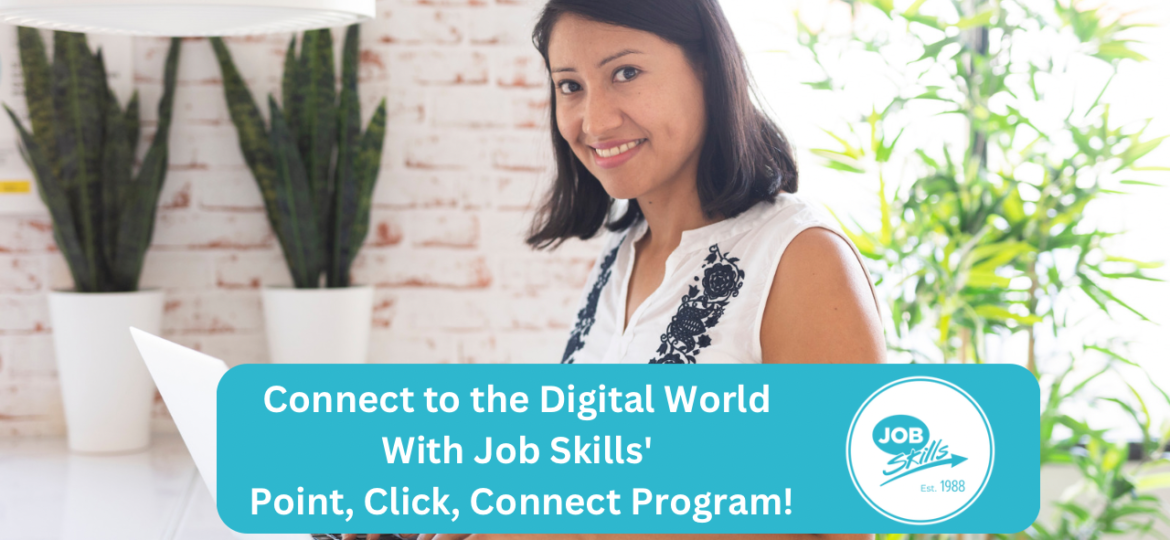 In today's fast-paced society, digital literacy is becoming increasingly important in our day-to-day lives. From online shopping to job search, knowledge in utilizing technology can provide life-changing opportunities. Unfortunately, not everyone has equal access to these essential skills. This is where Job Skills' The Point, Click, Connect Program comes in. In this blog post, we will explore what this program is all about, who it is intended for, and how it can benefit underrepresented groups across York Region.
The Point, Click, Connect Program is a digital literacy training program focused on providing basic computer skills for underrepresented groups. The program's aim is to help build confidence in utilizing various technologies while also promoting safe internet practices. The program is available at multiple locations in northern and southern York Region, including Job Skills, Welcome Centre, and community partner locations.
Over a one-week period, the program offers various workshops related to computer basics, communication on email and social media, internet searching and sharing utilizing Google Drive, internet safety, networking and job search, and Microsoft Word and Excel. Additionally, individual coaching and one-on-one support are provided. All computer equipment required during the program is provided as well.
The program is designed to cater to the needs of underrepresented groups across York Region, including Indigenous, low-income, seniors, persons with disabilities, and newcomers. The program's delivery method is both online and face-to-face, providing clients with various choices depending on their availability and comfort level.
Having access to essential digital literacy skills provides life-changing opportunities for underrepresented groups. The Point, Click, Connect Program can benefit its clients in various ways. For starters, the program can help people grow their self-confidence, as they learn new technical skills and feel less intimidated by technology. Furthermore, knowing how to navigate the internet safely helps clients protect themselves from online scams and fraudulent activities.
The program's emphasis on Microsoft Word and Excel skills can additionally help clients build resumes and apply for jobs online with ease. Since many job applications require digital submissions, the program's focus on job search and networking online helps clients advance their careers in the ever-evolving world of technology.
Access to digital literacy skills is becoming increasingly important, and The Point, Click, Connect Program is playing a vital role in providing access to these skills for underrepresented groups across York Region. The program's focus on delivering safe and inclusive training has empowered many individuals to feel more confident in utilizing technology. Moreover, the program's ability to offer both online and face-to-face training has made it more accessible to various groups in the community. Overall, the Point, Click, Connect Program is an excellent resource for anyone seeking to improve their digital skills, regardless of their experience level.
For more information or to register visit https://www.jobskills.org/point-click-connect/
ABOUT JOB SKILLS
For 35 plus years, Job Skills has been delivering solutions to job seekers and moving people into sustainable, meaningful employment. Throughout their long history, Job Skills has recognized that not every job seeker is the same. There is no one size fits all employment program. That's why the Job Skills vision is building an inclusive society where all people are ensured equitable opportunities to fulfill their career aspirations and participate fully in the community.
Job Skills' employment specialists are there to answer any of your employment questions. Job Skills' staff offer solutions to all job seekers, including youth, newcomers, mature workers, persons with disabilities, and entrepreneurs. Job Skills' knowledgeable team can help you make educated decisions, set goals, and create a strategy to help you become happier in your career. Job Skills works with local employers creating employment opportunities for Job Skills' clients.
Thanks to government funding, Job Skills' programs and services are free to all users. Job Skills have locations across Keswick, Stouffville, Markham, Brampton, and Mississauga. Job Skills also offers virtual services for community members unable to attend one of our offices for in-person activities.
Find your employment solution today. Visit www.jobskills.org