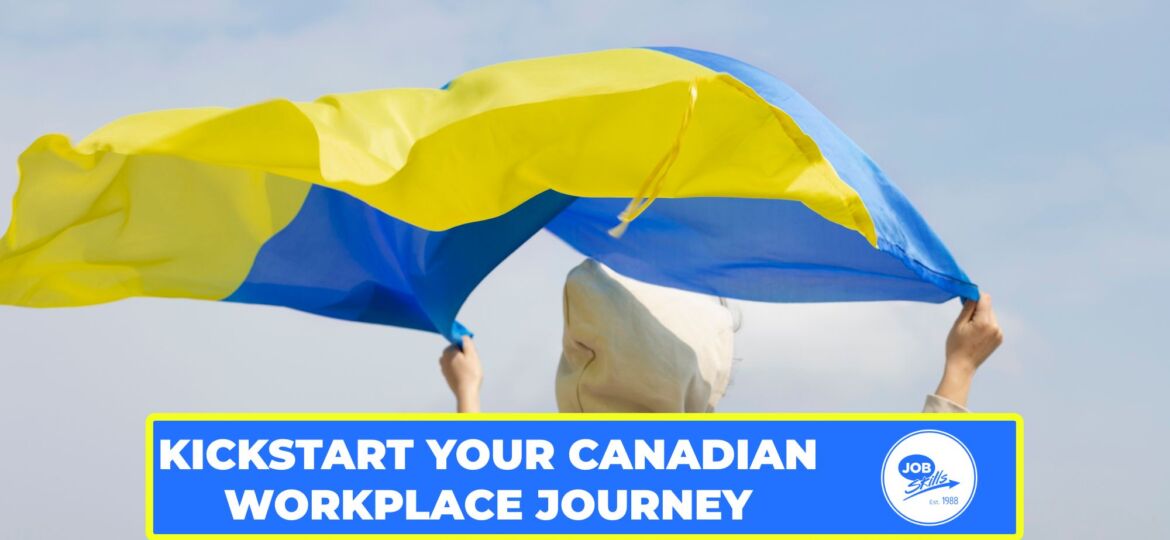 Starting life in a new country can be daunting for anyone, and it can be especially difficult for those who have had to leave their homes and families behind due to a war-torn country. For Ukrainian refugees, it can be overwhelming to navigate the Canadian job market, where employers often prioritize Canadian work experience. However, there is a solution for those who are looking to gain experience and successfully integrate into Canadian society. The Simpact Practice Firm, powered by Job Skills, offers a supportive environment for Ukrainian and Newcomer clients to learn and build their skills.
The Simpact Practice Firm provides clients with the necessary tools and skills to integrate into the Canadian workforce. Through an intensive eight-week job preparation program, clients can practice hands-on skills, learn about Canadian workplace norms, and engage with guest speakers who can assist them with their employment and wellness goals. The program includes various sectors such as administration, data entry, accounting/bookkeeping, sales, purchasing, information systems, computer graphics, human resources, communications, and marketing. Furthermore, the clients are encouraged to build relationships with other participants in the program, which can provide essential community support.
One crucial aspect of the program is the return-to-work action plan developed for each client. The customized plan helps clients identify their strengths and skills and helps them set achievable, measurable goals to secure employment. Moreover, the program offers clients one-on-one career coaching with a Facilitator/Coach and Employer Relations Specialist to ensure they have the support necessary to secure employment. The coaching includes resume and cover letter writing, interview skills, and job search strategies.
Another valuable component of the program is the opportunity to gain hands-on skills and practical work experience. Clients participate in a weekly simulation exercise where they work on a task related to the sector they are interested in. The simulation exercise enables clients to put into practice the skills and knowledge they have learned in the program, expose them to real workplace scenarios, and build their confidence to work independently.
Finally, the program offers clients the opportunity to engage with guest speakers who share their experiences and knowledge of the Canadian job market. The guest speakers are often professionals in their respective sectors and provide clients with insights into the skills, qualifications, and networking necessary to succeed in the Canadian workforce.
The Simpact Practice Firm provides a supportive and effective environment for Ukrainian refugees and newcomers to enter the Canadian job market. Through the program, clients can build their skills, develop networks, gain confidence in workplace language, learn about Canadian workplace norms, and receive one-on-one career coaching and employer relations support. This program helps clients overcome the challenge of Canadian work experience requirements, making it easier for Ukrainian refugees and newcomers to build a new life in Canada.
Job Skills is working to get your working. For more information or to register for The Simpact Practice Firm – Find your employment solution today, by visiting https://www.jobskills.org/simpact/

ABOUT JOB SKILLS
For 35 plus years, Job Skills has been delivering solutions to job seekers and moving people into sustainable, meaningful employment. Throughout their long history, Job Skills has recognized that not every job seeker is the same. There is no one size fits all employment program. That's why the Job Skills vision is building an inclusive society where all people are ensured equitable opportunities to fulfill their career aspirations and participate fully in the community.
Job Skills' employment specialists are there to answer any of your employment questions. Job Skills' staff offer solutions to all job seekers, including youth, newcomers, mature workers, persons with disabilities, and entrepreneurs. Job Skills' knowledgeable team can help you make educated decisions, set goals, and create a strategy to help you become happier in your career. Job Skills works with local employers creating employment opportunities for Job Skills' clients.
Thanks to government funding, Job Skills' programs and services are free to all users. Job Skills have locations across Keswick, Stouffville, Markham, Brampton, and Mississauga. Job Skills also offers virtual services for community members unable to attend one of our offices for in-person activities.
Find your employment solution today. Visit www.jobskills.org